Request quote and/or buying option available.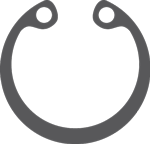 Heavy Duty Retaining Ring Pliers with locking device (can be released). Pliers with straight tips and 90° bent tips available.
For assembling circlips in bore holes within the range of ø 122 - 400 mm
Even more power for easier working
Solid and forged style
With locking device, can be released
For easy fitting of internal snap rings
With replaceable tips made of tempered steel
Black powder coated
Pliers body: rolled steel, high-strength
Tips: special tool steel, rolled, oil-hardened
Circlip Pliers for internal circlips with 90° bent tips.
P/N
Tip Style
Tip Ø
Size of shaft Ø mm
Shaft bore hole Ø
Length
mm
Weight 
g
 
min.
max.
780 035 2
Straight
3.5 mm (similar to 1/8")
122 - 300
3.5 mm (similar to 1/8")
5 mm (similar to 3/16")
570 (similar to 22")
1738 (similar to 4 lbs)
Request a Quote!

Buy from Distribution

780 045 2
Straight
4.5 mm (similar to 3/16")
252 - 400
4.5 mm (similar to 3/16")
6 mm (similar to 15/64")
580 (similar to 23")
1755 (similar to 4 lbs)
Request a Quote!
780 135 2
90° Bent
3.5 mm (similar to 1/8")
122 - 300
3.5 mm (similar to 1/8")
5 mm (similar to 3/16")
590 (similar to 23")
1803 (similar to 4 lbs)
Request a Quote!

Buy from Distribution

780 145 2
90° Bent
4.5 mm (similar to 3/16")
252 - 400
4.5 mm (similar to 3/16")
6 mm (similar to 15/64")
600 (similar to 24")
1723 (similar to 4 lbs)
Request a Quote!

Buy from Distribution

780 000
Plier w/o tips
-
Frame only
 
 
-
-
Spare Parts
| P/N | Tip Ø | Description |   |
| --- | --- | --- | --- |
| 780 035 5 0 | 3.5 mm (similar to 1/8") | 1 pair of spare tips for 780 035 2 | Request a Quote! |
| 780 045 5 0 | 4.5 mm (similar to 3/16") | 1 pair of spare tips for 780 045 2 | Request a Quote! |
| 780 135 5 0 | 3.5 mm (similar to 1/8") | 1 pair of spare tips for 780 135 2 | Request a Quote! |
| 780 145 5 0 | 4.5 mm (similar to 3/16") | 1 pair of spare tips for 780 145 2 | Request a Quote! |