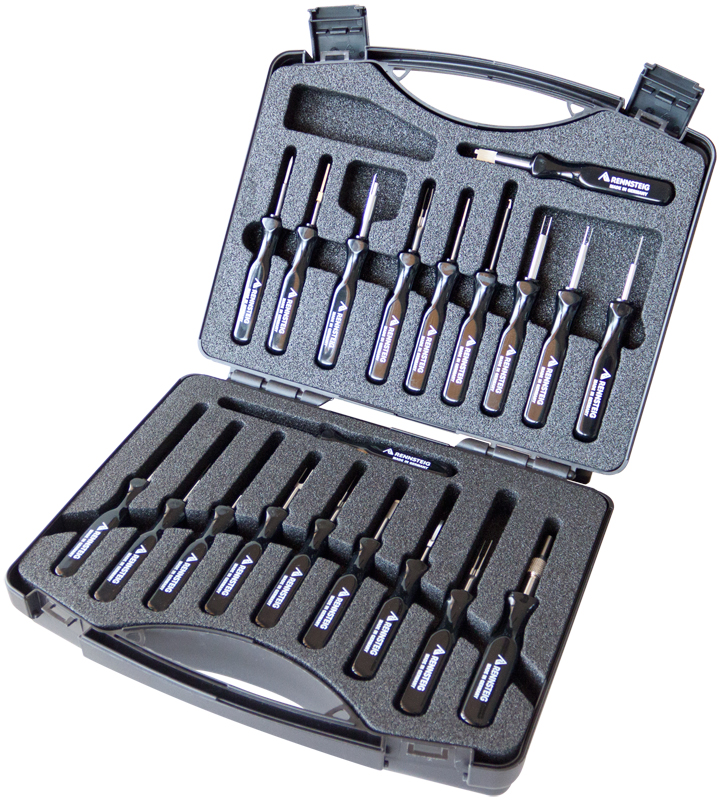 P/N 680-10527 RT
Universal set of tools for the most common passenger cars, commercial vehicles, and trucks. A 16-piece must-have set for independent workshops and garages.
Set can be used for Porsche, BMW, Ford, MACK, MAN, Fendt, etc.
Engineered to the highest standards anywhere, these picks will not damage terminals or harnesses during service. Other terminal removal devices and methods being used may be causing damage to terminals and wiring harnesses because they do not meet customer specifications.  You profit from the high level of functionality as well as from the longevity of our tools.
Case content:
P/N
Tool Style
Contact Size
Application
Can be used with (for example)
680-12093647
Flat
2.8 mm
TE Junior Power Timer 2.8, APTIV VF 280, FCI DCS-1 2.8mm
All types of vehicles
680-12093624
Flat
5.8 mm
TE Standard Power Timer 5.8

Cars: BMW, Ford, Opel, Porsche, Volkswagen Audi Group

Trucks: Fendt, Mack, MAN, Renault, Volvo

680-10714788
Flat
0.8 mm
Ducon contact ABS housing, Siemens micro-housing, TE Micro Timer
Trucks/Commercial Vehicles: Fendt, Iveco, Mack, Mercedes Benz, Renault, Scania, Volvo
680-99032
Flat
1.6 mm
TE Micro-Timer I, TE Junior Timer, Ducon Series, GAE, TE Superseal 

Cars: Fiat, Ford, Mazda, Opel, PSA, Renault, Saab, Volkswagen Audi Group

Trucks/Commercial Vehicles: Fendt, Mack, Renault, Scania, Volvo

680-90028
Flat
2.8 mm
TE Econoseal III series 070, Fastin-Faston 5.1, MIC I + IV, Multilock 070, Aptiv 280 Metri Pack, 480 Metri Pack, Micro-Pack 100, FCI Sicma-2 2.8 mm, Sicma-2 1.5 mm, Sicma-3 1.5 mm, DCS-1 6.3 mm, Yazaki 58 S-Type, series 312
Trucks: Iveco
680-10739585
Fork
-
TE Junior Power Timer (JPT), Standard Power Timer (SPT), Aptiv VF 280, VF 630, Ducon 4.8, Ducon 6.3, FCI DCS-1 / 2.8 mm, DCS-2 / 2.8 mm, LEAR/GHW AFK 2.8, DFK 1, DFK 2, DFK 3, DFK 4, MDK 1, MDK 3, MDK 4, WDF 2 G+H BFK 4.8 / 6.3 mm

Cars: Daimler Chrysler

Trucks: Fendt, MAN

680-10714809
Flat
1.5 mm
TE Micro Timer II and III, LEAR/GHW MFK, MFS / AFS, BOSCH BMK 0.6, Molex Mini Fit

Cars: BMW, Daimler Chrysler, Opel, Porsche, Volkswagen Audi Group

Trucks: Fendt

680-98020
Flat
2.8 mm
KOSTAL SLK 2.8
Cars: BMW, Mercedes Benz, Volkswagen Audi Group
680-99022
Fork
-
Molex Mini-Fit Series
-
680-10714843
Fork
2.8 / 4.8 mm
TE 2.8 Junior Power Timer, Standard Power Timer, MCP 2.8, Aptiv VF 280, HVF II, Lear & GHW DFK 2, DFK 4, MDK 1, MDK 3, MDK 4 Universal, FCI-2 2.8 mm
-
680-12004
Flat
-
TE Dual Beam, Econoseal III series 070, 0.64 mm, Micro Power Quadlock 0.63, Modu II + IV, Multilock 040 II + III, Multilock 070, Aptiv 150 Metri Pack, 280 Metri Pack, Ducon 1.5 + 2.8, Micro Pack 100, FCI MCS, Sicma-1, Sicma-2, Sicma-3 1.5 mm, Sicma-2 Sicma-3 2.8 mm, Yazaki: 58 L, Y type, 62 C type, 91 A-type, series 050, SLD, SWP, series 31
Miscellaneous
680 87035
Round
1.6 mm
TE Univ. Mate-N-Lok (Ø 2.1), CI 2 (Ø 1.6) LEAR/GHW CONI 1+ 3 (Ø 2.1), RSA 2 (Ø 1.6), CPC (Ø 1.6)

Cars: Daimler Chrysler, BMW, Porsche, Volkswagen Audi Group

Trucks: Fendt, Iveco, MAN, Merces Benz, Renault, Scanie, Volvo

680-90023
Flat
-
Tool for various secondary locks
Miscellaneous
680-99034
Custom
-
Tool for various secondary locks
Miscellaneous
680-29008
Fork
-
FCI Sicma 1+2+3
Miscellaneous
680-87050
Round
2.5 mm
TE 140 Mate N-Lok, LEAR/GHW RAM pin (Ø 3.5), CPC (Ø 2.5), Round plug connections Ø 2.5

Miscellaneous