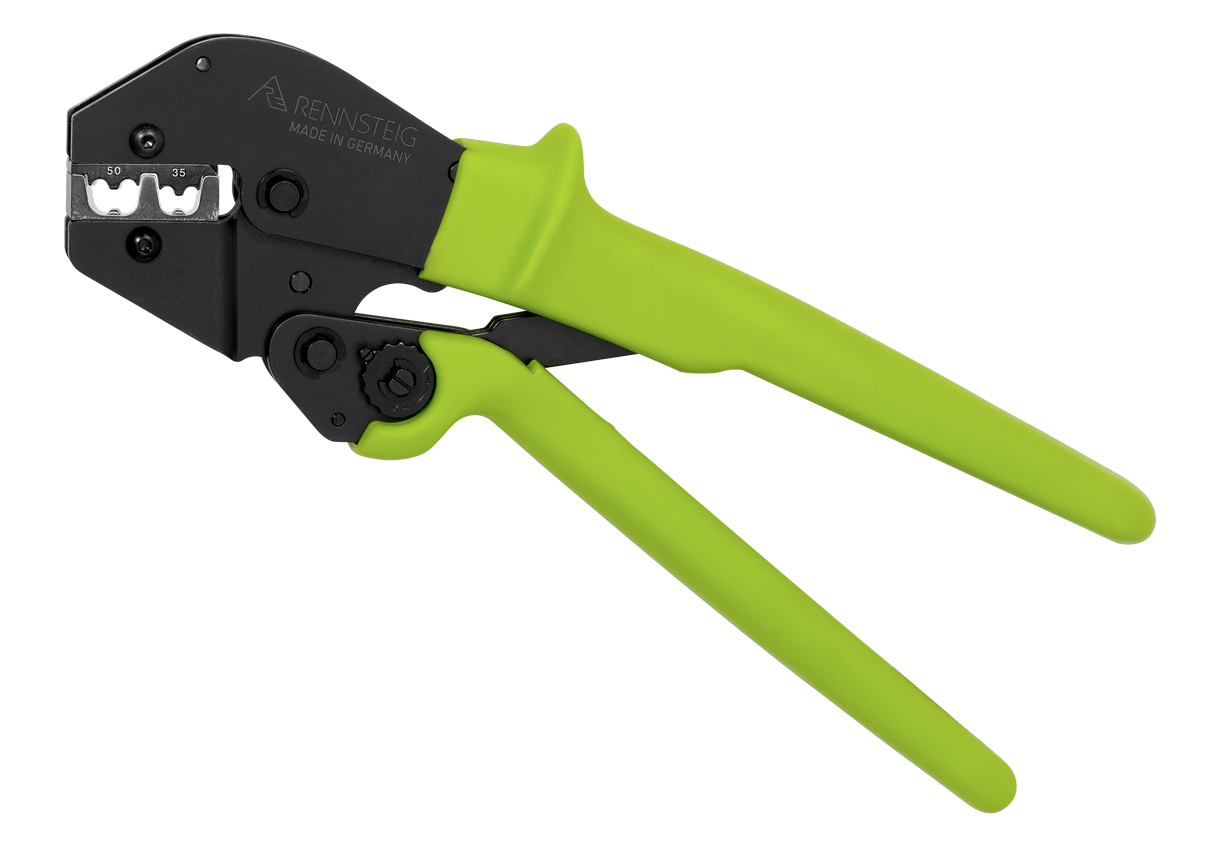 P/N 626 090 3 RT | P/N 626 091 3 RT
P/N 626 092 3 RT

Request quote and/or buying option available.
Service Crimping Tool for crimping of insulated and non-insulated ferrules (end sleeves).
Preselection of crimp connection by loading the appropriate trapezoid crimp nest
Capacity: 1/0 - 22 AWG (similar to 0.25 - 50 SQ-MM) (depends on version)
Ratcheting crimping tool
Guaranteed optimal, solderless, electrical connections
Best crimping quality by means of an exact crimp motion and precision dies
Reduced hand force due to optimal lever transmission
Forced locking system (releasable) leads to a reliable crimping result
Adjustable crimping pressure
Convenient handling due to ergonomically designed handles
One or two-hand operation
Material: special temper-hardened tool steel
Available applications
 
P/N
626 090 3
626 091 3
626 092 3
Description
Service Crimping Tool with die sets for crimping of Ferrules (End Sleeves) with and without collar
Handle Type
Dip Coated
Capacity
22 - 10 AWG (similar to 0.25 - 6.0 SQ-MM)
6 - 4 AWG (similar to 10 - 25 SQ-MM)
2 & 1/0 AWG (similar to 35 & 50 SQ-MM)
Application
Finish
Black-Oxide
Length
9 7/8"

Weight
1.2 lbs
 
Request a Quote!

Buy from Distribution

Request a Quote!

Buy from Distribution

Request a Quote!

Buy from Distribution

First step:
Move the handle with two fingers, press handles together until the terminal is properly positioned.

Second step:
Now use the whole hand for further crimping procedure

Third step:
Compress the handles until the ratchet automatically releases. The crimping process is completed.

Products shown are for illustration purposes only. Actual product may differ slightly than product images displayed.