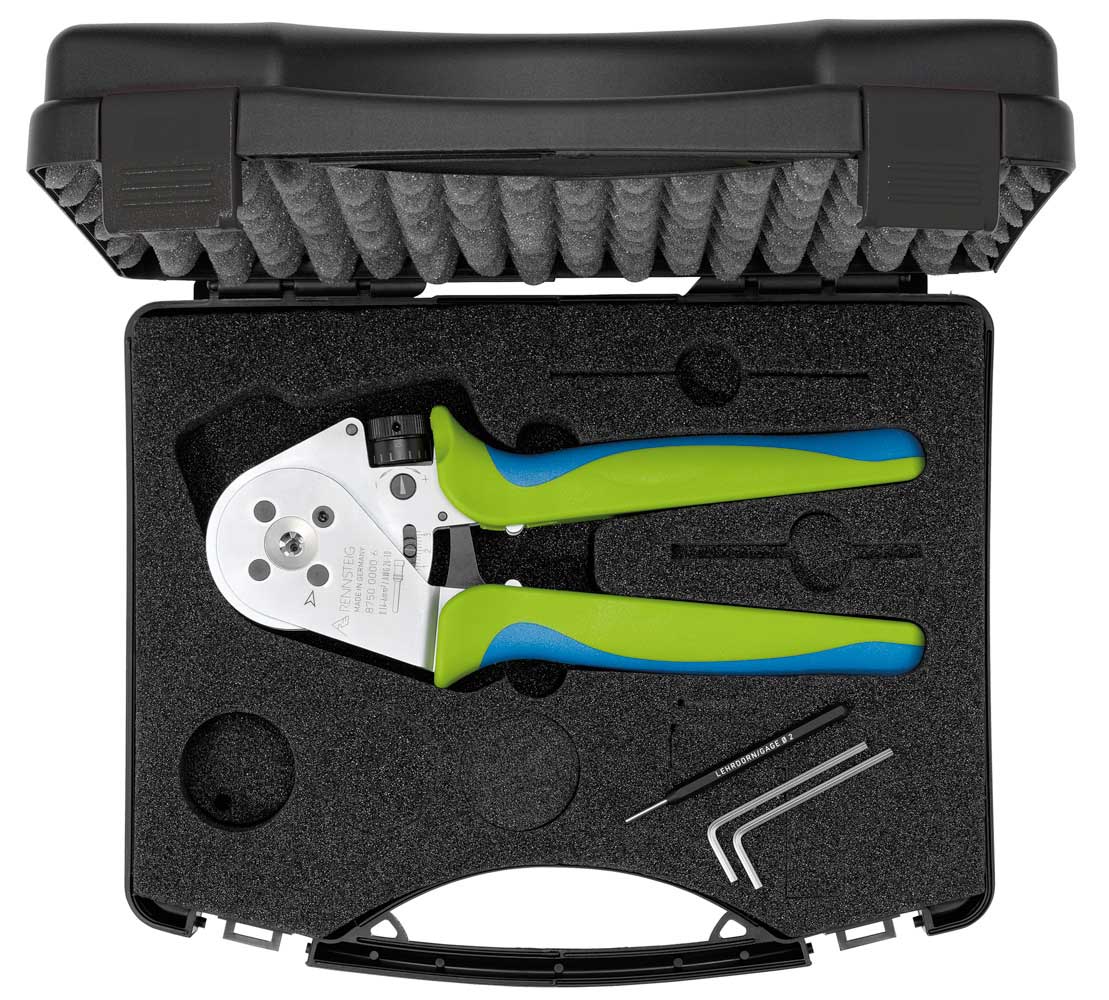 P/N 8750 0404 61 RT
The four indent crimp tool R8750 0404 61 RT has been developed for optimal crimping of machined diameters from 0.14 to 6.0 SQ-MM (26 through 10 AWG). The tool consists of a first movable handle, a second fixed handle, a precision ratchet mechanism, a metric scale, an adjustment system with micro setting of 0.01 mm tolerance, four indenters and a 12 position locator, fully rotable, for accurate positioning of contacts. Besides, the tool can be adjusted to any crimp depths that might be requested by the contact manufacturer.
How to Crimp
The reference table indicates the correct locator position to be selected and the crimp depth to be adjusted for the contact to be crimped. The contact is then inserted through the access hole of the tool on the opposite side of the locator. The contact is held in place by closing the handles to the first lock-in position thus preventing the contact from falling out of the tool and facilitating insertion of the wire into the contact. The precision ratchet assures consistently accurate crimping every time by forcing the tool to be closed all the way completing the crimping cycle before the tool can be opened again.
Adjustment of Crimp Depth
Crimp depth can be adjusted as follows:
Turn the adjusting screw clockwise for reducing the crimp depth and counter-clock-wise for increasing the crimp depth.
Adjustment Instruments
1 space on the adjusting screw = adjustment by 0.01 mm
1 full rotation of adjusting screw = adjustment by 0.2 mm (indication on the screw as well as on the rough scale)
5 rotations of the adjusting screw = adjustment by 1 mm (indication on the scale)
Control of Crimp Depth
Crimp tool adjustment is done at the factory, but with frequent use, periodic calibration is recommended to insure accuracy. This is easily accomplished with a 2.0 mm diameter wire gauge.
Crimp Contact

Cross Section  SQ-MM


AWG

Crimp Tool setting mm

Locator Setting

Crimp pin (signal) 1 mm

0.14

0.25

0.35

0.50

0.75

1.0

26

24

22

20

18

17

0.75

0.82

0.9

1

1.08

1.2

11

11

11

11

11

11

Crimp socket (signal) 1 mm

0.14

0.25

0.35

0.50

 

26

24

22

20

 

0.75

0.8

0.87

0.97

12

12

12

12

Crimp socket (signal) 1 mm

0.50

0.75

1.0

20

18

17

0.95

1

1.05

12

12

12

Crimp pin (signal) 1.5 mm

0.14

0.25

0.35

0.50

0.75

1.0

26

24

22

20

18

17

0.75

0.82

0.9

0.96

1.03

1

3

3

3

3

3

3

Crimp socket (signal) 1.5 mm

0.14

0.25

0.35

0.50

26

24

22

20

0.75

0.8

0.87

0.97

4

4

4

4

Crimp socket (signal) 1.5 mm

0.50

0.75

1.0

20

18

17

0.95

1

1.05

4

4

4

Crimp pin (signal) 2 mm

0.75

1.0

1.5

2.5

18

17

16

14

1.3

1.4

1.55

1.75

5

5

5

5

Crimp socket (signal) 2 mm

0.75

1.0

1.5

2.5

18

1

16

14

1.3

1.4

1.55

1.75

6

6

6

6

Crimp pin (power) 1 mm

0.14

0.25

0.35

0.50

0.75

1.0

26

24

22

20

18

17

0.75

0.8

0.85

1.03

1.08

1.13

1

1

1

1

1

1

Crimp socket (power) 1 mm

0.14

0.25

0.35

0.50

0.75

1

26

24

22

20

18

17

0.75

0.8

0.85

0.89

0.95

1.02

2

2

2

2

2

2

Crimp pin (power) 2 mm

0.75

1

1.5

2.5

18

17

16

14

1.3

1.4

1.55

1.7

7

7

7

7

Crimp pin (power) 2 mm

2.5

4

14

12

1.47

1.6

7

7

Crimp socket (power) 2 mm

0.75

1

1.5

2.5

18

17

16

14

1.3

1.4

1.55

1.7

8

8

8

8

Crimp socket (power) 2 mm

2.5

4

14

12

1.47

1.6

8

8