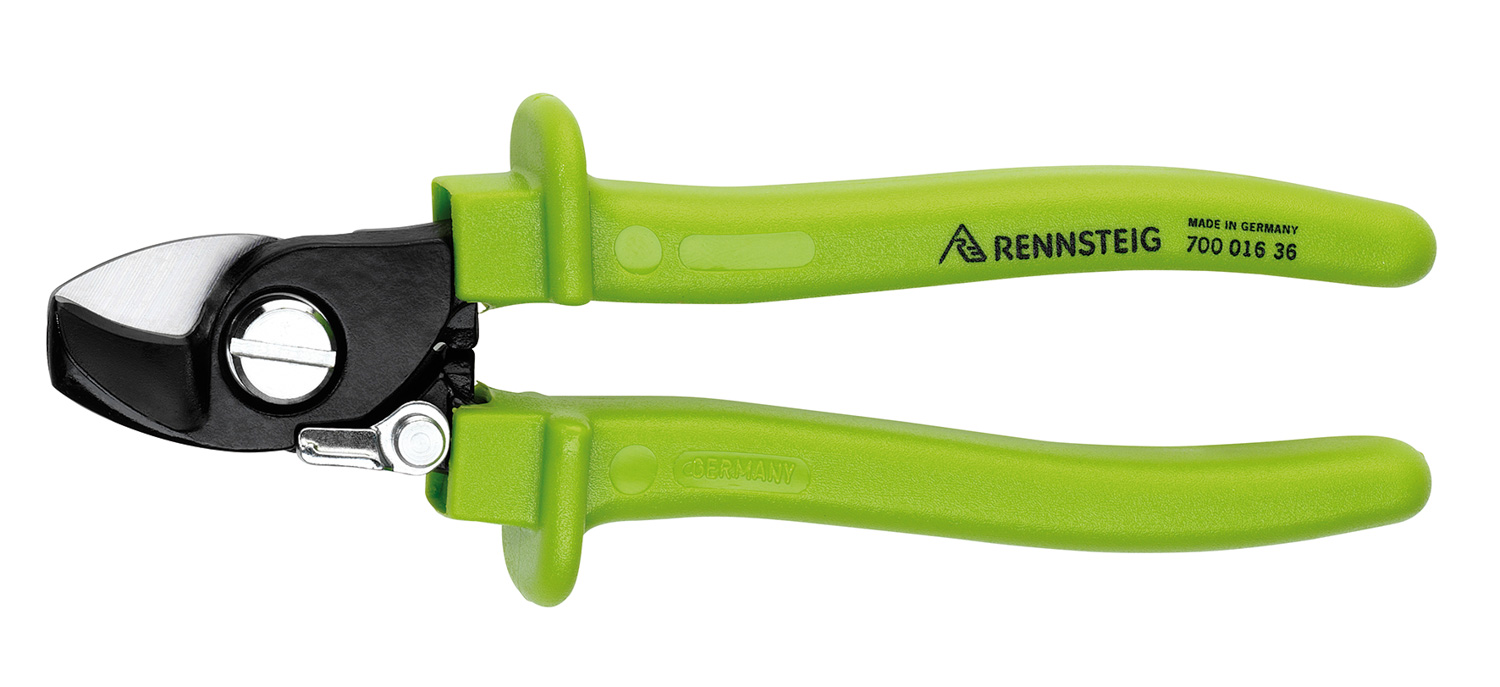 P/N 700 015 3 RT | P/N 700 015 36 RT
P/N 700 016 3 RT | P/N 700 016 36 RT

Request quote and/or buying option available.
According to the aerospace standard AS6173/3 FEDERAL SUPPLY CLASS 5120
Clean and smooth cut without crushing or deformation

Easy cutting with one-hand operation
Cutting Capacity: max. 1/0 AWG | Ø 19/32"
For Cu + Al multi-conductor cable, strand, and multi-stranded wire
Suitable for universal use for cutting and dismantling
Automatic reopening through spring-loaded handles (depends on version)
Easy and clean cutting performance through precision-ground blades
Single and multiple wires
Lock closure (depends on variation) and distance stops for high safety comfort
Guard prevents operators fingers from being pinched
Material: special tool steel, forged
Thousands sold under various brand names.
* Not suitable for steel wire.
| | |
| --- | --- |
| | |
| Cut affected with a Cable Shear: easy, clean cut without any deformation of the cable. | Cut performed with a Diagonal Cutter: high effort required, inaccurate cut, considerable deforming, and crushing of the cable. |
Available versions
 
P/N
700 015 3 RT 
700 015 36 RT
700 016 3 RT
700 016 36 RT 
Description
Compact Cable Cutter
Compact Cable Cutter (RG)
Compact Cable Cutter 
with Opening Spring (OS)
Compact Cable Cutter 
with Opening Spring (RGO)
Handle Type
Dip Coated
Reinforced plastic grips
Dip Coated
Reinforced plastic grips 
Capacity
up to 1/0 AWG   
19/32"   
Length

6 1/2"

Weight
0.55 lbs.   
 
Request a Quote!

Buy from Distribution

Request a Quote!

Buy from Distribution

Request a Quote!

Buy from Distribution

 

Request a Quote!

Buy from Distribution