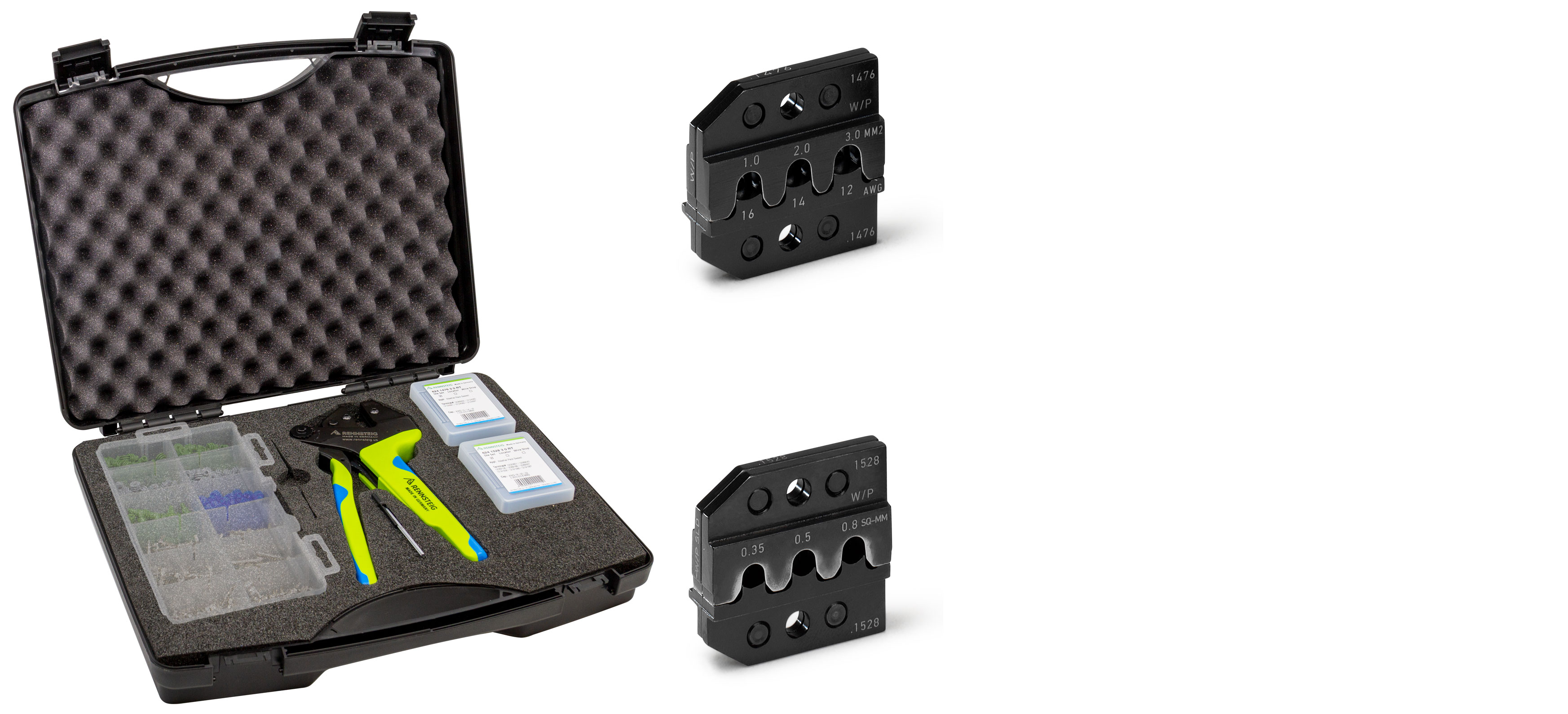 P/N 624 101-08 RT
Rennsteig Weather Pack Crimp Tool Kit - Basic
Complete kit for crimping all Delphi (Aptiv) Weather Pack terminals: 0.35mm2, 0.5mm2, 0.8mm2, 1mm2, 2mm2, 3mm2 (22, 20, 18, 16, 14, 12 AWG) .
Kit contains:

Plastic carrying case
1x Crimp System Tool frame (P/N 624 000 3 RT)
1x Crimping Die Set (P/N 624 1528 3 0 RT)
1x Crimping Die Set (P/N 624 1476 3 0 RT)
1x Space for Weather-Pack Terminals and Seals Kit

Request quote and/or buying option available.
Superior terminal crimping process meeting the OEM crimp specification.
One step crimp process: Crimping both the wire and seal with one action.
PEW12 Crimp System Tool frame has parallel crimp action providing 2,645 pounds of force/pressure at the crimp surface

Replacement crimp dies are replaceable if lost or improperly used and damaged.
PEW12 Crimp System Tool frame also accepts over 1000+ interchangeable die sets for all types of applications.

All components, including the rugged case, are quality Made in Germany.
With this kit, you are able to crimp the following terminals.
Terminal P/N
Terminal Family
Wire Cross Section
Gender
Sample Picture 
12089305
W/P 
1.00 - 2.00 SQ-MM
Male
12020801
W/P
0.35 SQ-MM
Female
12089040
W/P 
0.50 - 0.80 SQ-MM
Male
12089108
W/P
0.50 - 0.80 SQ-MM
Female
12089188
W/P 
0.50 - 0.80 SQ-MM
Female
12089307
W/P 
0.22 - 0.35 SQ-MM
Male
12124580
W/P 
1.00 - 2.00 SQ-MM
Female
12124581
W/P 
2.50 - 3.00 SQ-MM
Female 
12124582
W/P
1.00 - 2.00 SQ-MM
Male
12124587
W/P 
2.50 - 3.00 SQ-MM
Male
12191506
W/P
0.50 - 0.80 SQ-MM
Male
12191586
W/P 
0.50 - 0.80 SQ-MM
Female
12191587
W/P 
0.50 - 0.80 SQ-MM
Female 
The above terminals can be used to build the following housings:
---
Buy from Distribution